Volunteers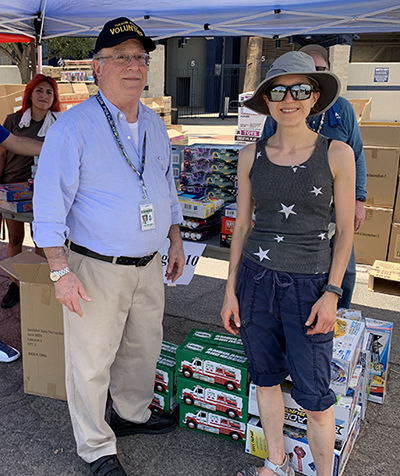 Tucson Police Volunteers are community members who bring a wide variety of experience, education, skills, and interests to support the department and give back to the community.
Tucson Police Volunteers help build valuable, impactful relationships between the department and our diverse community. Volunteering is also a great way to explore your interest in a possible career in law enforcement.
Volunteer Opportunities
Administration
Clerical
Community Engagement
Communications
Crime Lab
Crime Prevention
Division Support
Education
Finance
Fingerprinting
Fleet
HR
Investigative Unit Support
IT
Neighborhood Services
Public Relations
Records
Research and Analysis
Role Player (at the police academy)
Special Events
Specialty Unit Support
Volunteer/Intern Services
Volunteer Application Process Requirements
18 years of age or older
Must be fully COVID vaccinated
Need a valid Driver's License or ID
Must complete a comprehensive background check
Download and complete a Volunteer Interest Form (pdf)
Email the form to TPDVolunteers@tucsonaz.gov
---
Role Player Volunteer Application Process
Tucson Police Role Player Volunteers act out roles in scenario-based training for Police Officer and Community Service Officer recruits.
This is a very important partnership that allows recruits to engage with and learn from community members. It also gives community members the opportunity to bring their experiences and perspective to officer training, while learning more about the department and our recruitment process.
Tucson Police Role Player Volunteers help officers develop communication and engagement skills, while they train for situations they encounter, such as:
Domestic violence
DUI traffic stop
Mental health crisis
Public nuisance
Shoplifting
Apply to be a Role Player
Must be 18 years of age or older
 
Must be fully COVID vaccinated
Need a valid Driver's License or ID
Basic background check
Email the form to TPDvolunteers@tucsonaz,gov
For more information, email: TPDvolunteers@tucsonaz,gov
Internships
The application window for interns has closed, please check back for Spring 2023 internships.
Interns are afforded a unique opportunity to assist the Tucson Police Department.
General Information
Interns are a valuable asset to our department.
Our internship program is a reciprocal partnership in which interns gain knowledge and marketable job skills, while bringing their expertise and enthusiasm to help increase police responsiveness, efficiency and quality customer service.
The Tucson Police Department places qualified interns where they can best create efficiencies for the department and improve services to the community. Interns supplement and support sworn officers and civilian personnel.
Work Requirements
Application Process
Provide all documentation required by your school to participate in an internship with the Tucson Police Department. Proof of internship requirement will also be requested.
Email your request to apply to tpdvolunteers@tucsonaz.gov.
Internship applicants will be contacted by the TPD Backgrounds Unit and provided with a background packet to complete.
Once applicants submit the packet, background investigations begin.
Upon successful completion of the background check, applicants will undergo a mandatory training with the Tucson Police Department Records Unit.
Interns will be contacted to be scheduled for placement.
*The Tucson Police Department will try to accommodate specific requests, however, actual placement depends on department needs at the time.
Contact TPDvolunteers@tucsonaz.gov for more information.