Internships
Please Note: Intern Application submittal for Spring of 2022 closes September 30, 2021.

Interns are afforded a unique opportunity to assist the Tucson Police Department.
General Information
Interns are a valuable asset to our department.
Our internship program is a reciprocal partnership in which interns gain knowledge and marketable job skills, while bringing their expertise and enthusiasm to our department to help increase police responsiveness, efficiency and quality customer service.
It is the policy of this police department to use qualified interns for specific tasks and duties that can create efficiencies for the department and improve services to the community.  Interns are intended to supplement and support, rather than supplant sworn officers and civilian personnel.
Work Requirements
Application Process
Prospective interns shall provide all documentation required by their school to participate in an internship with the Tucson Police Department. Proof of internship requirement will also be requested.
Internship applicants must complete the Internship Interest Form and submit it via email to tpdvolunteers@tucsonaz.gov
Internship Interest Form (pdf)
Internship applicants will be contacted by the TPD Backgrounds Unit and provided with a background packet that must be completed.
Once the applicants submits the packet their background investigation will begin.
Upon background check completion, prospective interns will be scheduled for a mandatory training curriculum with the Tucson Police Department Records Unit.
Interns will be contacted to be scheduled for placement.
*The Tucson Police Department will try to accommodate specific requests, however, actual placement will depend on department needs at the time of application.  
Contact recruit1@tucsonaz.gov to obtain additional information.
Contact TPDvolunteers@tucsonaz.gov to obtain additional information.
Volunteers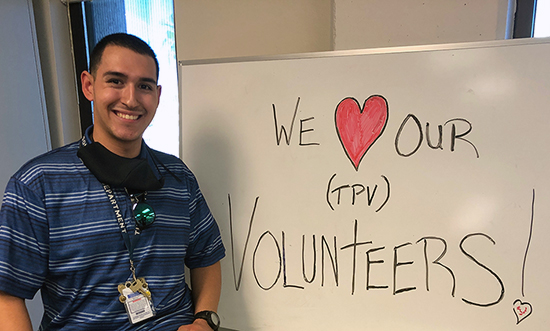 Our Tucson Police Volunteer mission is to invite our community members to join the Tucson Police Department in a volunteer capacity to learn more about our department, educate and guide us with their varied experiences, interests, skill sets and education, support our department and give back to our community.  
Our volunteer program affords us the opportunity to build valuable and meaningful relationships with our diverse group of active community members.  Tucson Police Volunteer opportunities include:
Volunteer Opportunities
Administration
Clerical
Community Engagement
Communications
Crime Lab
Crime Prevention
Division Support
Education
Finance
Fingerprinting
Fleet
HR
Investigative Unit Support
IT
Neighborhood Services
Public Relations
Records
Research and Analysis
Role player-Academy
Special Events
Specialty Unit Support
Volunteer/Intern Services
Volunteer Application Process
Email it to tpdvolunteers@tucsonaz.gov
All Volunteer applicants will undergo a background investigation
Once application and background investigation are complete and successful, Volunteer will go through the Intake process and be assigned to a unit/position.
---
Role Player Application Process
Our Tucson Police Role Player mission is to invite our diverse group of community members to serve as actors who assist with scenario-based training for Police Officer and Community Service Officer recruits. 
This is a very important partnership between our organization and the community, which allows our recruits to engage with and learn from our community members.  It also gives our community members the opportunity to bring their skills and experiences to real-time training, while giving them the chance to learn more about our department and our recruitment process. 
Tucson Police Role Player opportunities include:
Community engagement
Communication
Shoplifting
Public nuisance
Mental Health assistance
DUI
Domestic Violence
Apply to be a Role Player
Must be 18 years of age or older
Need valid Driver's License or ID
Basic background check
Email Role Player Interest Form to TPDvolunteers@tucsonaz,gov 
For questions or additional information, email: TPDvolunteers@tucsonaz,gov