Internships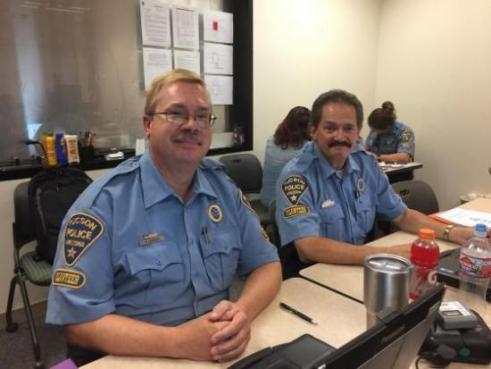 Interns are afforded a unique opportunity to assist the Tucson Police Department.
General Information
Interns can be an important part of the organization and are proven to be a valuable asset to law enforcement agencies. 
They help increase
Police responsiveness
Service delivery
Information input
And they provide new program opportunities. 
In addition, interns can bring new skills and expertise to the job and prompt new enthusiasm. 
It is the policy of this police department to use qualified interns for specific tasks and duties that can create efficiencies for the department and improve services to the community.  Interns are intended to supplement and support, rather than supplant sworn officers and civilian personnel.
IMPORTANT
Background checks are required for all individuals applying as an intern with the City of Tucson Police Department. All intern applications must be submitted at least 12 WEEKS prior to the start of your internship.
Work Requirements
Application Process
Prospective interns shall provide all documentation required by their school to participate in an internship with the Tucson Police Department. Proof of internship requirement will also be requested.
Internship applicants must complete a pre-screen application and submit it to the Recruiting Unit:
Intern Applicant Questionnaire (pdf)
Internship applicants will receive a fingerprint form upon submission of a completed application.
Fingerprinting hours - Wednesday 8:00 AM - 3:00 PM. The Recruiting Unit will be notified when the fingerprinting has been completed.  
When both the application and fingerprinting have been completed, the background check process will begin.
Upon background check completion, prospective interns will be scheduled for a mandatory training curriculum with the Tucson Police Department Records Unit.
Interns will be contacted to be scheduled for placement.
*The Tucson Police Department will try to accommodate specific requests, however, actual placement will depend on department needs at the time of application.  
Contact TPDvolunteers@tucsonaz.gov to obtain additional information.
Volunteers
Tucson Police Volunteers
Patrol Services
Assist with traffic control
Help enforce parking violations
Conduct neighborhood patrols
Conduct checks on parks
Assist with major incidents
Administrative Services
Assignments may be to one or multiple units:
Fingerprinting
Investigative units
Communications & Records
Role Playing Volunteers
Assigned to training academy
Assist with scenario based training 
Apply to Volunteer
Email it to Recruit1@tucsonaz.gov
All Volunteer applicants will undergo a background investigation
Once investigation is complete Volunteer will be assigned to a unit
Training Process
The academy training is designed to provide volunteers with tools necessary to work both in the administrative services and patrol services areas.Volunteers will undergo an approximately 4 week academy training 
Areas of training will include TPD:
Policies & procedures
Driving
Patrol activities etc.
​​Once the academy training is complete, Administrative Services volunteers will complete on the job training and Patrol Services volunteers will go through a field training program.
---