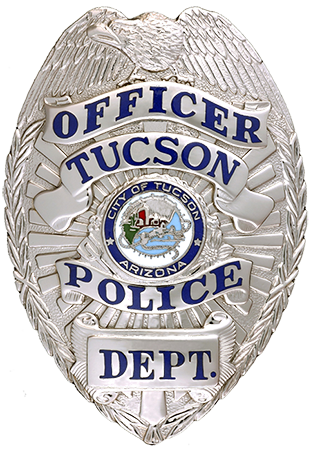 The Southern Arizona Law Enforcement Training Center (S.A.L.E.T.C.) is one of the premier law enforcement training centers in the state of Arizona. TPD prides itself on running on of the most progressive and advanced training facilities that trains recruits from agencies all over the state.
Arriving at the Academy
Recruits are expected to arrive on time and prepared
Vehicles and Parking
Recruits shall have valid driver's license with them
Recruits shall park in the South Lot
Recruits shall lock their vehicles
Recruits shall display current vehicle registration tags
Attire for men (Day 1)
White Button Down Shirt
Black Necktie
Black Dress Pants
Cross Training Shoes
Attire for Women (Day 2)
White Blouse
Black Dress Slacks
Cross Trainers
Agency Uniform (required no later than 2nd week)
Agency short or long sleeve shirt
Agency Pans
Agency Belt
Agency Authorized Boot or Shoe
Crew neck TShirt (color authorized by agency)
Gun/Utility Belt
Physical Training Uniform
Blue TShirt
Blue Shorts
White Socks
Athletic Shoes
Navy Blue BDU Pants
Grooming
Men's hair shall be no longer than collar in back and no longer than top of ear on sides
Women's Hair shall be styled to meet same standards or arranged as to meet standards
Jewelry
Other than medical bracelets jewelry that constitutes a safety hazard are prohibited.
Meals
Recruits must bring their own food
Recruits are not permitted to leave campus for food
Lockers
Recruits will be assigned a locker to store uniform  & gear
Weapons
Weapons are not permitted until authorized by supervisor