Chief Of Police Chris Magnus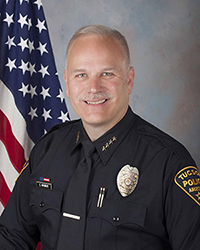 Chief Chris Magnus started his public safety career in 1979 as a dispatcher with the City of Lansing.  He was also a paramedic in the mid-Michigan area for close to a decade.  During this same time he realized he wanted to make the transition to becoming a police officer. 
After attending the Lansing Community College Police Academy, he became a deputy sheriff at the Livingston County Sheriff's Department. 
In 1985, he became a police officer with the Lansing Police Department where he spent the next 15 years of his law enforcement career. 
In 1999, Chief Magnus became the police chief in Fargo, North Dakota, where he played a key role in implementing the first two-state regional dispatch system in the nation, a forensic children's interview center, and a refugee liaison program for the area's many new immigrants and refugees.