Our Officers Tell Their Stories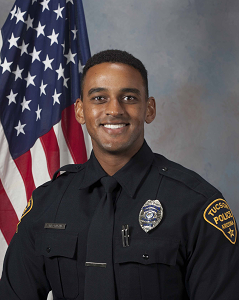 My name is Sheden Mezenghie and I have been employed by the Tucson Police Department since April 2018 and have been a sworn officer of the department since August 2018. I am currently assigned to Operations Division Midtown where I work as a patrol officer.
I am originally from Phoenix, AZ and moved to Tucson when I started my career here with TPD. I am an Arizona State University Alumni where I received my Bachelors in Criminal Justice/Criminology. Police work has always been something that interested me growing up as a child. I am the first and only in my family to get into Law Enforcement. As I made my way through high school right before finishing my senior year, I decided that I wanted to find a job where I could have fun every single day, and knew this was the right path. As I went through my 4 years at ASU, I took advantage of every opportunity that was available to me in regards to Law Enforcement. I went on ride alongs, prison and jail tours, department tours etc. I have been very fortunate and lucky to have met special individuals that took it upon themselves to mentor me and help guide me into this career.
The biggest thing I have learned and am still learning as a new officer is that people will love you, and people will hate you. It is my job to try and connect with all types of different people on a daily basis day in and day out. The one thing that I can control is my attitude and how I treat others. I have enjoyed my time with TPD thus far, and am excited to see what lies ahead in the coming years.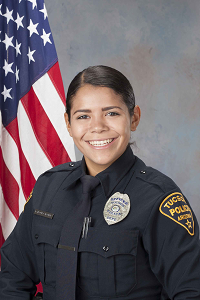 My name is Dayanna Jacquez, I am 24 years of age. I am from Yuma Arizona.
Prior to working for the Tucson Police Department I worked as a banker at Wells Fargo while going to school at the University of Arizona. I graduated from the University of Arizona in 2016 with a bachelor's degree in Criminal Justice and a minor in Spanish.
I Joined the Tucson Police Department in July 2017 and I am currently assigned to Operations Division Midtown I utilize my position as a platform to interact with the community and provide guidance to the youth in Tucson. I am currently working on program that will provide troubled youth and their parents to get a better understanding of what police officer's do and the kind of recourses they can provide to the community.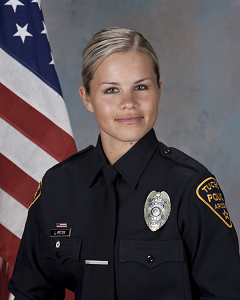 Originally from San Diego, Sergeant Lauren Pettey graduated from the University of Arizona with a Bachelor's of Science in Public Administration in 2008.
In January of 2009, she joined the Tucson Police Department as a Police Officer Recruit. Upon completion of the Academy, she was assigned as a Patrol Officer in both Operations Division Midtown and Operations Division West. As a Patrol Officer, she became a Field Training Officer and Defensive Tactics Instructor. In 2013, she joined the Counter Narcotics Alliance as an undercover officer in the mid-level squad.
She was promoted to the rank of Detective in 2013 where she was assigned to the Child Sexual Assault Unit. In 2015, Sergeant Pettey was promoted to Sergeant and assigned to Operations Division Midtown until being assigned as Detective Sergeant in the Domestic Violence Unit in 2017 where she remained until 2019 when she became the Detective Sergeant of the Child Physical Abuse Unit.
Sergeant Pettey was appointed to and currently serves as a law enforcement member on the Arizona Supreme Court Committee on the Impact of Domestic Violence and the Courts (CIDVC). As a collateral assignment, Sergeant Pettey has also been a Hostage Negotiation Unit Supervisor since 2017.